Headie Eddie's Glass Cleaner (16 oz)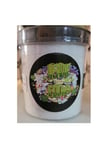 On sale
Headie Eddie's Glass Cleaner is eco-friendly and made up of 100% organic materials which are also 100% biodegradable. It's also non-toxic for those that need to know!
It not only cleans your piece, but it can take out water stains and resin/oil build up on a rig or water pipe.
All you need to do is add the Headie Eddie's glass cleaner into your piece, pour Boiling Distiller Water into piece and let it sit for 5-10 minutes depending on how dirty it is. If it has been over 1 week since cleaning a 20 minute soak is ideal.
You will never need ISO or harmful chemicals to clean your glass again!
Give it a try, you won't regret it!
Comes in 16oz reusable FDA/TSA Approved reusable plastic container.
Each container does between 80 to 100 cleanings (based on 2 teaspoons each cleaning)
Small pieces - 1 to 2 teaspoons.
Large pieces - 1 to 2 tablespoons.
SAFE FOR TRAVEL!
KEEP AWAY FROM CHILDREN

---
If you have questions, feel free to contact us by Email or private message.
We greatly appreciate your patience and understand the excitement of your new order.
If you need to return or exchange an unused item, please contact us for instructions.
Contact: [email protected]
IG: @headieeddies